Textile Weekend
August 18 – August 19
Quilting Techniques and Fashions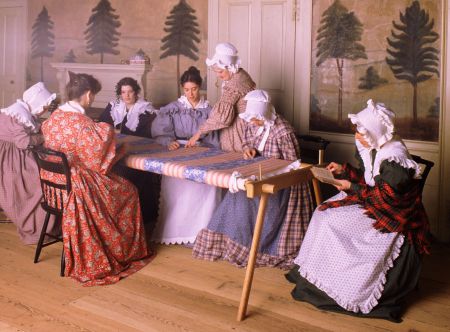 Each year, Old Sturbridge Village explores a different aspect of 19th-century textiles. Past topics have included quilting, needlework, and women's domesitic textile production.
This year, Textile Weekend will focus on quilting techniques and fashions of early 19th-century New England.
See a slide show of quilts from the OSV collection.

Eliza Farrar wrote in her 1836 publication The Young Lady's Friend, "A woman who does not know how to sew is as deficient in her education as a man who cannot write".
Join our costumed interpreters for textile-themed tours throughout the day, see demonstrations of piecing, quilting, and appliqué skills, and even to try your hand at starting a pieced project of your own.
Vote for your favorite Member-made quilt (or quilted item) as part of the 2012 Members Quilt Challenge
Join a Gallery Talk: Pieces and Patience: Appliqué Quilts in New England
Watch demonstrations of appliqué, piecing, making a housewife or sewing pocket, and lap quilting a cradle quilt
View Piecing It All Together: A Timeline of New England's Early Quilts – Learn about fashions in early New England quilting through a display of handmade reproduction quilts
Learn how to do paper piecing for an hexagonal quilt
Take a Walking Tour around the Common, Gathering Up the Fragments: Quilting in the Early 19th century New England
See artifact and reproduction quilts on display in selected buildings on the Common
Visit with the Village ladies as they gather for a Country Quilting Party
Try your hand at making a needle case or a quilted teapot mat in the Craft Center (separate fee applies)
Textile Weekend Upcoming Dates
Saturday, August 18, 2012 – Sunday, August 19, 2012
Related posts: